Dos & Don'ts of Floating the River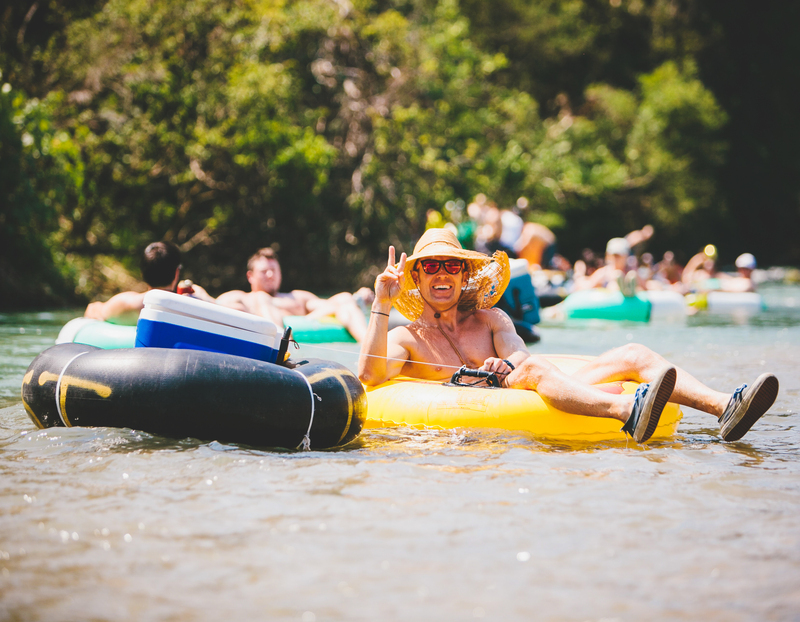 Lazy river tubing can be one of the best activities to do with a group of friends. Few things are better than being in nature surrounded by friends, floating down the river, listening to music – and maybe even sipping a cold one.
But a few wrong moves and your tubing adventure can spill into a bit of a mess. From wet phones to dehydration, we cover all the dos and don'ts so you can be sure you have the lazy river tubing adventure you're looking for.
And since we've been floating rivers near Austin for years now, we've seen it all.
Tips for Floating the River
When it comes to tubing, a lot can go right and a lot to go wrong but there's no denying it's one of the best relaxing adventures you can have.
First, we'll cover best practices & tips for tubing the river. Then, we'll cover what you should avoid when floating.
DO: Get everything included when possible
Let's be honest: nobody likes schlepping around a cooler while trying to carry your tube, towel, and speaker.
Plus, it's a pain in the butt figuring out transportation given the fact you're going to park, float, and then need to get back to your car again. And oftentimes, knowing the best place to start your float is the most important.
And of course, you should not drink and drive.
That's why it's a great option to float with us. From round-trip transportation to and from Austin, to coolers, ice, your tube, a lockbox – we even provide guides to ensure you get the best experience.
It's not always possible to get everything included when you go tubing but when you can, we definitely recommend it.
Do: Bring floatable sunglasses
We can't tell you how many times people have lost their sunglasses while floating down the river.
That's why you should bring sunglasses that float! Yes they're real and yes they're awesome.
If you float the San Marcos River you may not have to worry about it because the spring water can sometimes be crystal clear.
Do: Pack light – and pack your trash out
You really don't need to bring a lot – and if you don't want something to get wet, don't bring it! Less is more when it comes to ensuring a fun float down the river.
Of course, it's imperative you take your trash with you. Different places to tube near may have receptacles for your trash while others may not. Either check beforehand or be prepared to take your trash out.
Either way, just ensure you keep the river and surrounding nature clean. Please?
Do: Bring food
You don't have to go overboard or anything. We know Texans love their BBQ but eating brisket while tubing rivers near Austin might be pushing it.
Instead, opt for a light snack or a premade sandwich. You can just toss right into your cooler.
Do: Waterproof case your phone or leave it
Don't be the person who ruins their iphone river tubing.
It's simple: either leave it in your car or put it in something waterproof. And just because your phone is 'water resistant' doesn't mean it will still work after it sinks to the bottom of the Guadalupe River.
Do: Bring a water bottle & drink more than you think you need
It gets hot being in direct sun for hours on end and if you're not careful, you can get dehydrated.
Plus, if you're drinking while tubing, that means you want to be consuming even more water.
We recommend avoiding plastic water bottles since the direct sunlight can leach the plastic into the water. And, of course, it's more environmentally friendly. :)
Do: Have protection from the sun
You're bringing sunscreen, right? Okay, good. Just checking.
Additionally, you should bring a hat. And although you may feel tempted to leave your shirt back in the car, we suggest you take it.
At some point, you may want to cover up. Sunscreen is great and all but there's only so much it can do to protect us from that big star up there.
What to Avoid While Tubing
Now that we've covered all of the things we recommend for tubing the river, let's go over the things you should try and avoid.
Don't: Bring glass or styrofoam
Duh. Don't do it.
There are plenty of options for canned beers AND wine. Even cocktails.
If you plan on floating the Guadalupe or tubing the San Marcos, check out this list of local Texas beers that are great for tubing near Austin.
Beer not your thing? We've got you covered: here are 6 canned beer alternatives from Austin.
Don't: drink and drive – or drink too much
This leads us directly to this nonnegotiable: don't drink and drive.
Make it easy and get transportation included in your float to and from Austin by booking your float with us.
Also, remember that you're out in the sun on a hot day. Although some beers can make it more enjoyable, you need to proceed with caution.
If you want to continue the fun after your tubing trip, you could always tour local Austin breweries in the area.
Don't: forget to sunscreen your legs
We've seen this happen a thousand times. People lather up their face, chest, back – they even get their ears and neck.
But what is so often neglected are the legs. Those poor legs.
You may not think about it but when you go river tubing parts of your body that aren't normally exposed to the sun are completely exposed. The lower legs and feet need to be lathered up and if you're wearing shorts, you need to remember they're going to hike up a bit when you get in your tube so make sure you put sunscreen on your knees and thighs!
Don't: bring your flip flops
This tip isn't relevant for every place you try and float the river. But if possible, you should try and leave your flip flops in your car.
If you do need do take them, tie them to your tube. Seriously. Just because they float doesn't mean you won't lose them. In fact, because they float you may lose them more easily.
Don't: bring more than is absolutely necessary
If you don't really need it, don't bring it.
Every day tubing the river people lose cameras, phones, sunglasses, wallets – and then their dignity.
Especially don't bring it if you're not okay with it getting wet. Even with a dry bag and being careful, accidents can happen. Especially after a couple of beers in the hot sun.
That covers the general tips for lazy river tubing. If you want more information, check out our Ultimate Guide to Tubing in Texas.