Why Floating The River is the Best Team Building Activity for Your Company Outing
Force them to unplug - So you spent all this time planning your company outing and your employees are all sitting around on their phones - bummer. Let the river take hold! It's an activity and environment that requires people to unplug. Most of the time, people won't even have their phones on them.
Dissolves cliques - The river naturally pushes people apart and brings them back together - a place where it's difficult to be cliquey. It's a natural disruptor that brings people together in way that isn't forced or awkward. Let nature show your team new configurations and build new relationships.
A unique experience - Floating the river is something that most people haven't done before. While other experiences are replicable in any place (escape rooms, food tours, breweries), river tubing is unique experience and tubing on Texas rivers is uniquely Texas.
Team building that isn't forced or awkward - Tubing is an inherently social activity that requires team coordination not necessarily lead by a department head. Hold your tubes together, grab a coworker a drink, paddle as a team, avoid obstacles, tie down your group's belongings. Floating together creates endless scenarios for natural team building and nature requires people to step up to the task at hand.
A full story - There's a literal beginning and end to the river as well as a metaphorical one. You're not just in the same room - you're going somewhere. It's a journey, and when you finish you'll have accomplished something memorable together.
Gets them outside - A spring fed river, turtles and Texas wildlife, 100 year old cypress trees. Reduce stress and promote happiness in a sunny place.
Float Hosts to enhance your group's experience - Our Float Hosts are available throughout your team's journey to make the experience as interesting, fun, and safe as possible. They're there to provide tips, grab drinks, and answer any questions your team has.
Great for large groups - ATXcursions can accommodate any size of group; in fact we're experts at it. Got hundreds of participants? We've got you covered.
Companies We've Worked With
Nike
Cirque du Soleil
ABGB
Dell
SquarMilner
Example Itinerary
Here's how a typical day flows: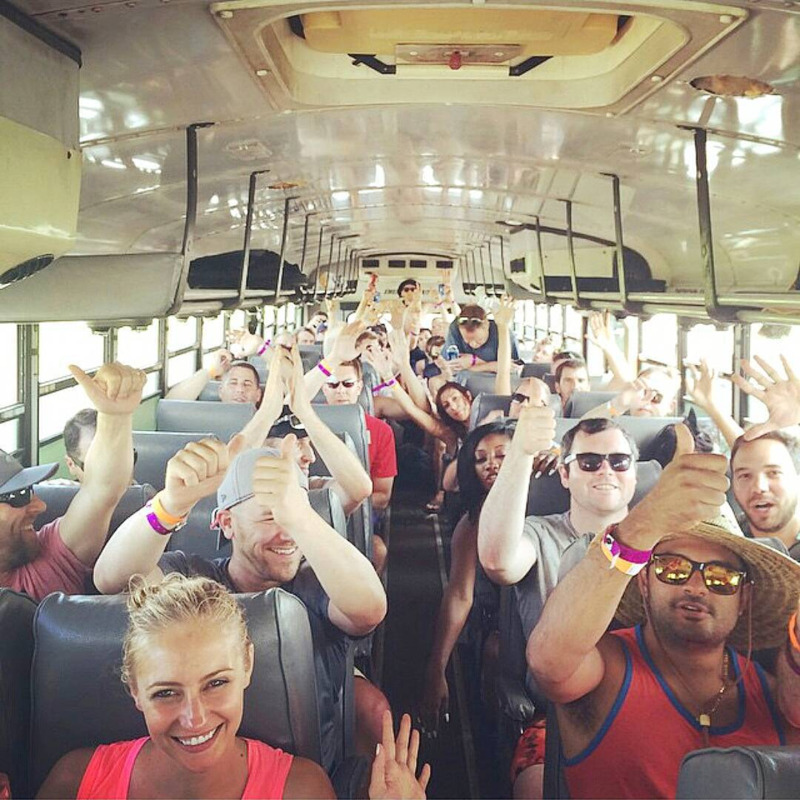 Pickup and Departure
Our bus arrives at your pick up location
Our Float Hosts pack all your drinks and snacks into coolers for your guests
Your guests load onto the bus and we depart
It's an hour drive to the river on a charter bus with a bathroom
During that ride our Float Hosts will give instructions and set expectations for how the day will go
When we arrive at the river, guests will unload and leave their belongings on the bus. Guests will be able to retrieve their belongings when we reach the end of the river
Everyone puts on sunscreen
Hosts will move coolers into tubes for the group
Everyone gets on the river together
Down the River
And now the best part - we call it River Time. This is the time for you and your team to unplug and reconnect with those they know and some they don't
Share drinks and snacks with your teammates while floating down the river together
Our Float Hosts float down the river with the group the entire way. Our Float Hosts are continually making sure that the float is a seamless and unforgettable experience so that your team can sit back, relax, and enjoy their time
Head Back
After the 2.5-3 hr float your team will exit the river where they'll leave their tubes
Our Float Hosts will assist with carrying coolers up the exit ramp
The same buses that dropped them off will be here to take them back to Austin
We take you back to your drop off location
FAQ
How long is the entire experience? - From pickup to your dropoff the entire experience is around 6hrs. For example, if your departure time is 10am, you can expect to be back around 4pm.
Do you serve alcohol? - We don't! But you're welcome to bring as much or as little as is appropriate for your group.
Do you have life vests? - Absolutely, just let us know how many you need. We'll have plenty of extras too. Life vests are not required for tubing.
Does everyone have to wear a swim suit? - Nope! In fact, many of our Float Hosts prefer to wear shirts and shorts while tubing. It's entirely up to you and your team.
Do you serve food? - Yes, food and non-alcoholic beverage add-on packages are available for any size of group.
Is this a safe activity for my team? - Floating the river is a natural, outdoor environment and is an inherently risky activity. Our Float Hosts give your group a safety primer while on the bus ride to the river that preps them for potential hazards. Life vests are available for people who are not strong swimmers or to anyone who wants one. The river has varying widths, depths, and currents. You can flip out of your tube.
What's a tube? - Imagine a giant donut filled with air. A tube is not a raft. Each tube carries one person. Tubes have cup holders and handles for your convenience.
When is the best time to go? - For optimal weather, we recommend June 1 -> August 31. The best days for a company or corporate trip are Monday -> Thursday.
Recommended equipment
ATXcursions provides:
Transportation to and from your office / meeting point
Tubes, ice, coolers, tubes for your coolers, trash bags
Water, snacks, and meals (with add-on packages)
We recommend you bring:
Sunscreen
Hats, [inexpensive] sunglasses, and sunglasses retainers (aka Croakies)
Flip flops, water shoes, or sport sandals
Please don't bring:
Glass
Styrofoam
Don't bring anything on the river you wouldn't want to get wet, dirty, or lost
Pricing and Availability
The tubing season is March → October
Please email us with a range of expected participants and a date, or give us a call, and we'll provide you with a detailed quote!
Email us at info@atxcursions.com or call 866-759-7375 for more information.
See why people love ATXcursions
Check out our reviews on:
Email: info@atxcursions.com Or call us for more info: 866-759-7375