Floating the San Marcos River: Rules and Regulations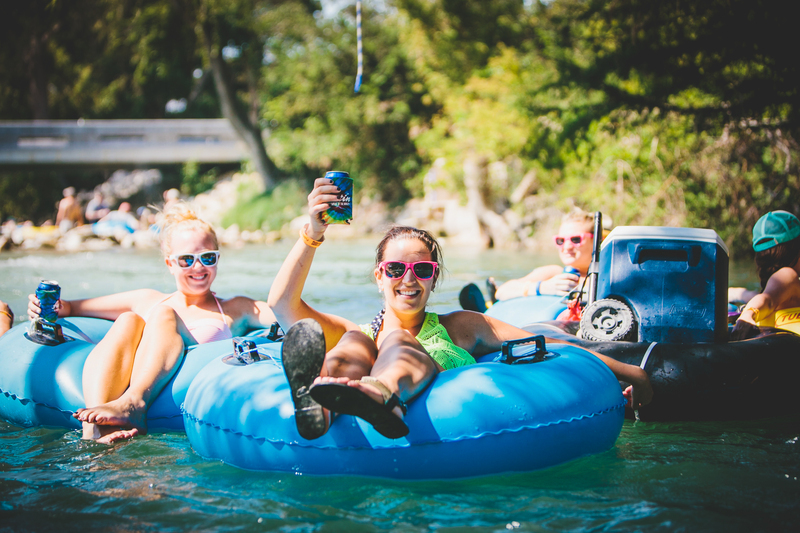 The best river tubing experience near Austin is floating the San Marcos River.
Not only does it have crystal clear spring water at a perfect 72 degrees, but it's also just a short 30-45 minute drive from Austin and is a cool town.
In fact, did you know San Marcos is the oldest inhabited site in North America?
I know, it's pretty mindblowing. But you're not here for mindblowing, you're here for rules and regulations for river tubing the San Marcos.
Rule #1: No glass allowed
You guessed it: you can't bring glass to the river.
In addition to it being a danger to humans and wildlife, it also takes up too much room and is cumbersome.
Besides, when you're river tubing, you want to pack light.
Of course, you don't have to worry about carrying around any coolers or extra weight if you float with us. We handle all the things you don't want – like the driving and coolers – so you can sit back and enjoy the float.
Remember, this rule doesn't mean you have to settle for canned beer. Check out these 6 beer alternatives from Austin that are lovely to keep you company on your float.
Rule #2: No styrofoam on the river
No styrofoam cups, coolers, plates, bowls, packing supplies, or any other weird stuff you try to float down the river with.
Don't be that person with the styrofoam cooler. The chemicals leach into the water and negatively affect the animals and wildlife. Those coolers aren't made for river tubing.
Instead, visit the local Austin Yeti store or just float with us where it's included.
Rule #3: No littering on the San Marcos River
What you pack in, you must pack out.
Sort of. There are trash cans along the way you can ditch your trash at but that's the way you should be thinking about it.
In fact, there are even trash cans right on the water that have been converted from small boats. How convenient is that?
The easiest way to keep track of your trash is to have a system. We recommend keeping a small, empty bag in your cooler and filling it as you finish things. Then it's easy to toss and you don't risk trash from falling into the river.
Rule #4: No jumping from bridges, dams, trees, or cliffs along the river
The depth along the river is unpredictable and often hard to detect.
Therefore, it's not permitted to jump from any of the bridges, trees, or cliffs along the float.
More people are injured this way than any other when it comes to river tubing so make sure you follow this rule – even if a couple of beers makes you want to do it anyway.
Rule #5: Children under eight years of age & non-swimmers should use life jackets
The San Marcos River isn't very aggressive but it's still recommended that people who don't know how to swim and children under 8 still wear a life vest.
There are several areas throughout floating the San Marcos River that you cannot touch the ground. Add this to the fact there may be some drinking involved (for the adults, not the kids) and it's just not something worth testing.
Opt for the life jacket and it will make everyone feel more at ease.
Rule #6: Follow Texas Law
Whatever is the law at the state level means it's also the law at the city level. Therefore, it's important all state laws are followed.
Pretty self-explanatory but we didn't want you thinking you can legally smoke weed while you float the San Marcos because there wasn't a rule on this list saying you couldn't.
Rule #7: Coolers must have a secure closing mechanism
Whether it's velcro, a bungee cord, a latch, or zipper, you need to be able to securely fasten your cooler.
Too many times coolers have spilled into the river and Austinites had to watch their favorite Texas beers for floating disappear into the distance. But if we're being honest, usually those are recovered – it's the trash that's the real problem.
This rule is in place to fix that.
Float the San Marcos River with us
We've been river tubing the San Marcos for years and have all the best local knowledge.
Come float with us. We'll pick you up and drop you off in Austin, provide the tubes, coolers, ice, lockbox, guides – everything you need to have the best river tubing experience.