Tips for Tubing with a Cooler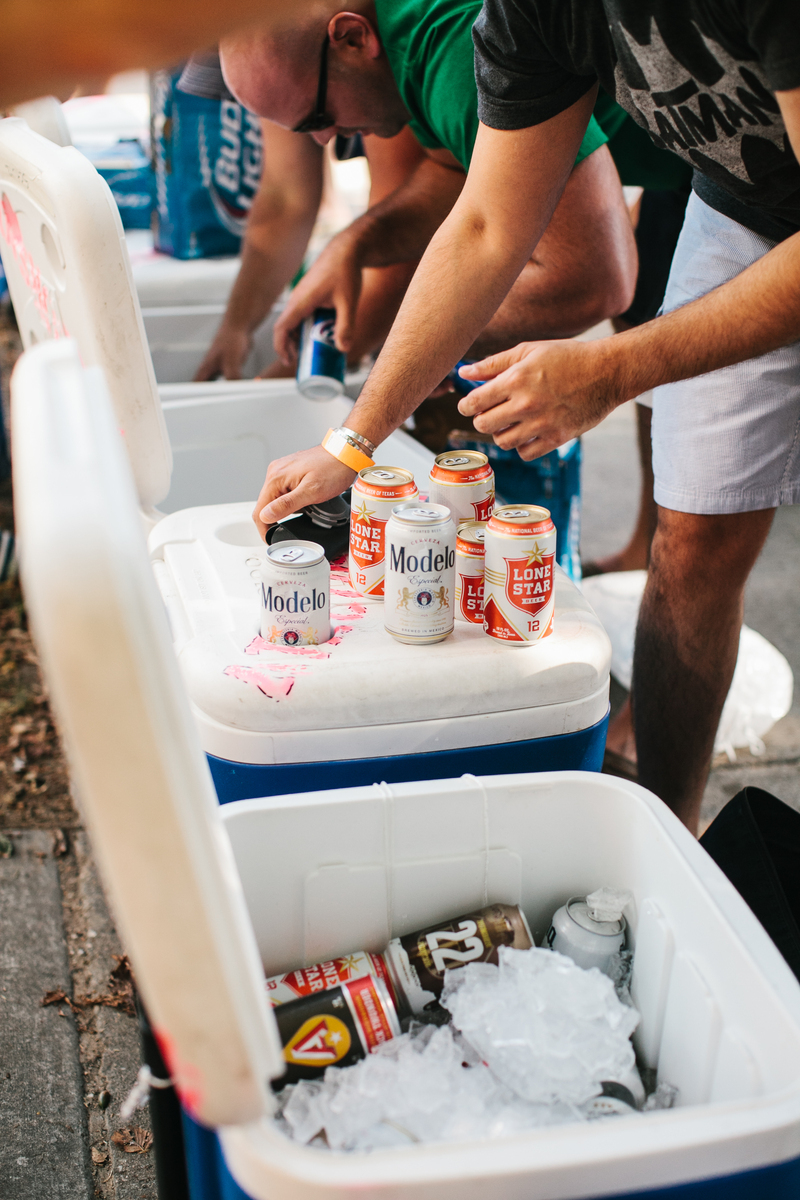 During summer months in warm places, there are few ways to really beat the heat while still enjoying the beauty of the outdoors.
Which is why river tubing is so revered.
But even when you have the best tips for floating the river, it can sometimes be difficult juggling all the moving parts. Of course, you could opt for an all-inclusive river tubing trip with us but that may not always be possible where you're living.
There's a lot you should leave at home for your lazy river float but you definitely want to bring a cooler. Don't worry if that sounds intimidating or cumbersome, we have the best tips on tubing with a cooler.
And considering how we float the San Marcos River most days out of the year, you could say we're pros at it.
Cooler Tubes & Floating Coolers
You DO NOT need to purchase a tubing cooler for river tubing. If you don't know what that is, it's exactly what it sounds like: a tube specifically designed for coolers.
The truth is, most tubes will naturally fit your cooler. So you can either float the river with a company that supplies coolers for you, or you can rent an extra tube and buddy up next to it.
If you float often or are short on space, you could opt for a floating cooler. These are great because they can deflate but you want to make sure it properly holds all of your food and beverages before you push out. We've seen some floating coolers not survive very long.
Again, this is only necessary if you float often and don't want to be springing for an extra tube each time. Overall, you don't need cooler tubes or floating coolers to properly go river tubing with a cooler. All you really need is an extra tube and a standard cooler.
Also remember that if you choose to float the river with an excursion company (like us!), you don't have to worry about any of it.
Quick Tips for River Tubing With a Cooler
Now that we've gotten all that out of the way, here are some professional tips for river tubing with a cooler.
Tips for Tubing with a Cooler:
Always buy cans instead of bottles. Glass is prohibited near rivers since it can be dangerous if it breaks.
Check the restrictions of the area. There are some rivers that don't allow you to drink alcohol while river tubing.
Coolers with side cupholders can be a gamechanger as they give you the ability to set your drink down. If you book a tubing trip with us, a cup holder will even come right on your inner tube!
Easy-access coolers are also a great option. These will have multiple points of entry or flaps that are easy to open and close.
Bring a trash bag and keep it in the cooler. As you finish beers or food, you can toss it right into the bag for easy cleanup.
Keep your food in containers if you don't want it to get wet – or eat it quickly. It's likely much of your ice will melt and then your food – that was once sitting so nicely on top of the ice – will be submerged.
Make sure you bring plenty of water. Extra water. Be the person who has water to offer.
Coolers can double as a storage container. As long as things can get wet or they're in a proper container, a cooler can be a great way to store different items.
Takeaway Advice for Tubing with a Cooler
Even though it may feel cumbersome, river tubing without a cooler is a mistake. You don't need a cooler tube or a floating cooler, you just need a regular cooler and an extra tube.
But if you don't want to be burdened carrying around a cooler, buying ice before it melts, renting an extra tube and getting everything configured, opt to go with an excursion company like us! We'll take care of everything – even the guides and transportation are included.