Rules and Regulations for River Tubing in Central Texas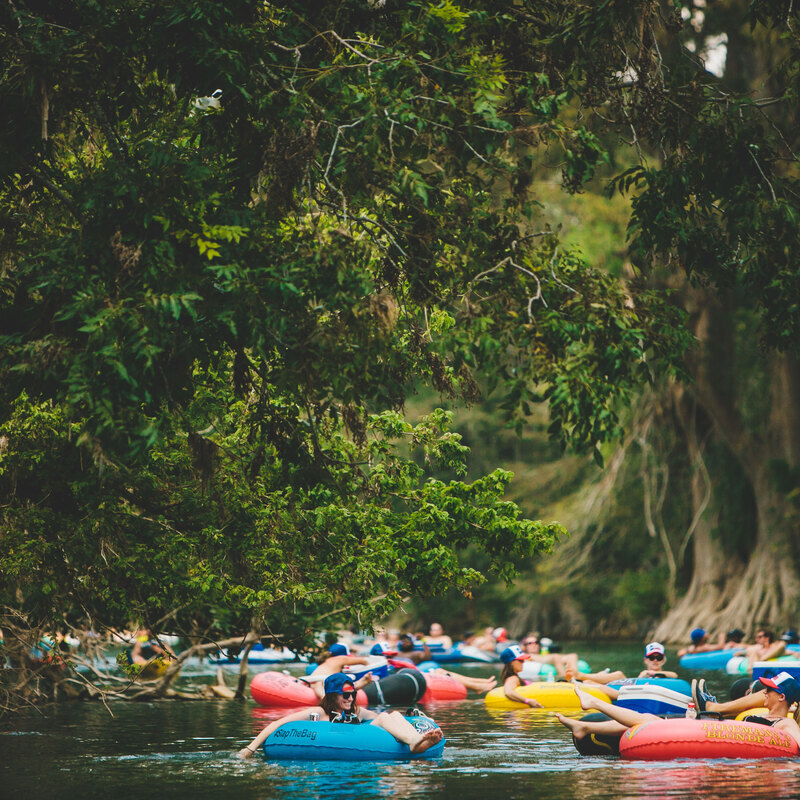 Few things can break the Texas summer heat like floating the river.
It's a relaxing adventure that can make any hot day better – especially when you're river tubing in spring water like floating the San Marcos River near Austin.
But floating can come with its own set of risks and it's important rules and regulations are followed to protect not only us humans, but the rivers and wildlife supporting our adventure as well.
Different rules for different rivers
There are several different rivers you can float in Central Texas and each has different rules and regulations that need to be followed.
While there are some general rules for all of them, there are specific ones as well.
Let's begin with the universal rules for floating all the rivers in Central Texas. Then we'll break down the rules and regulations of each.
General Rules for Floating New Braunfels, Guadalupe, Comal, and San Marcos Rivers
Looking to beat the heat and go river tubing near Austin?
Whether you opt to party on the Guadalupe or float the longest shortest river in the world on the Comal River, there are some general rules and regulations for all of them you need to follow.
Rule #1: Glass is not allowed on the river
Under no circumstances are you allowed to bring glass to the river.
In addition to it being a danger to humans and wildlife, it simply doesn't make any sense to bring glass. It's bulky and heavy.
When you're floating the river, you want to be sure you pack lean and light.
But regardless of whether or not you think it's a good idea to bring your bottle of Tito's river tubing, you're not allowed. So don't do it.
Don't worry, that doesn't mean you have to settle for canned beer. Check out these 6 beer alternatives from Austin that are perfect to keep you company on your float.
Rule #2: No styrofoam
Styrofoam is bad for the environment in general but it's really bad for our Texas rivers.
Styrofoam coolers, for example, leach out into the water as they float. As the styrofoam breaks down from the water, chemicals are released.
These chemicals pollute rivers and negatively affect wildlife. Additionally, the tiny pieces of styrofoam end up in the bellies of aquatic animals.
Don't be that guy buying the cheap styrofoam cooler at the gas station right before your float. It's not groovy, man.
Did you know when you float the river with us a cooler, ice, tube, lockbox, and transportation are all included?
Rule #3: No littering
There is absolutely no littering. What you bring to the river, must leave with you.
You'll likely find trash bins in convenient places but you should make it really easy to keep track of your waste.
We suggest bringing a small bag and stashing it in your cooler. As you finish your cans or food, you can toss everything right into the bag so it's easy to keep track of and dispose of.
If you float the San Marcos River, there are even convenient trash cans right on the water. In both a clever and eye appealing way, they converted small boats into trash bins so you can rid of your waste during your float.
However you do it, ensure you develop a system for keeping track of your waste as you float the river so none of it ends up in our Texas rivers.
Rule #4: No jumping from bridges, dams, trees, or cliffs
This rule is saying you're not allowed to stop during your float and jump off of different things along the way.
Follow this rule. It can be extremely difficult to determine depth throughout the river systems as they vary frequently.
Not only can the depths change dramatically within a very short distance, it can also vary greatly depending on the time of year or rainfall.
Therefore, it's prohibited to jump from bridges, dams, trees, or cliffs.
Rule #5: Life jackets are recommended for children under eight and weak or non-swimmers
Although most of the rivers in Central Texas don't get all that aggressive, it's still absolutely recommended children and non-swimmers wear life jackets.
Although the cities state this as a 'recommendation,' they also list it as part of their rules and regulations. Therefore, we highly recommend you follow it.
Besides, it's just not worth it. And everyone will have more fun knowing everyone in the party is safe.
Rule #6: Follow State Law
Although pretty self-explanatory, it's worth mentioning.
Anything that is a law at the state level, is also a law at the city level. Therefore, all state laws still need to be followed.
We didn't want you thinking the laws were somehow different out on the water or anything.
Now that we've gotten the general rules out of the way, let's dive into the specific rules and regulations for each river.
Enjoy floating the river but respect it too
It's easy to get carried away on the river after a few drinks but it's important we respect and follow the rules and regulations that are set in place for good reasons.
Besides, if you're caught not following them, it may result in a ticket, fine, or even being arrested.
If you float the river near Austin, make sure you follow these rules.
For more information, or to learn about rules and regulations for specific rivers, check out our guide to river tubing New Braunfels, floating the San Marcos River, and rules and regulations for floating the Guadalupe.