Comal River Tubing Rules and Regulations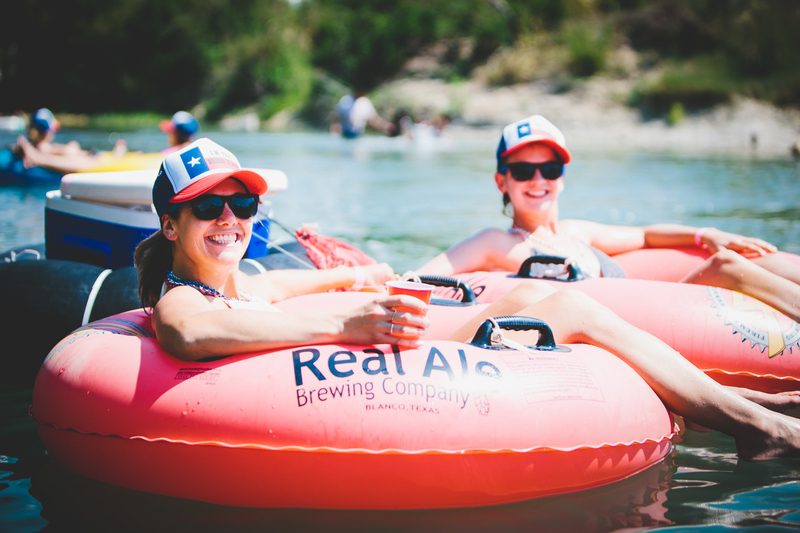 Although there are general rules and regulations everyone must follow when river tubing in Texas, floating the Comal River has additional rules that must be followed.
Known as the "longest shortest river in the world", the river tubing the Comal near Austin is a different experience that floating the Guadalupe River. The rules and regulations are similar to that of floating New Braunfels with a few added on.
First, we'll begin with the general rules and regulations for river tubing in Texas and then we'll cover what's specific to floating the Comal River.
General Rules and Regulations for River Tubing in Texas
Here's the standard set of rules and regulations for river tubing in Texas.
You can find more details in the article linked above, but we wanted to quickly list them here to make it easy on you.
Rule #1: Glass is not permitted
Rule #2: No styrofoam on the river
Rule #3: No littering of any kind
Rule #4: No jumping from bridges, dams, trees, or cliffs
Rule #5: Life jackets are recommended for children under eight and weak or non-swimmers
Rule #6: Follow State Law
All of these must be followed regardless of which river you float in Texas.
If you river tube the Comal, you're going to have a few more rules to follow. In fact, it's the most strict when it comes to rules and regulations for rivers to float near Austin.
Rules and Regulations for River Tubing the Comal River
Here is everything you need to know about what makes floating the Comal different.
Although there are similar rules and regulations for floating New Braunfels, there's a few more things you need to know.
Rule #1: Tubing is not allowed when the river flow is above 1,000cfs
This rule essentially means you're not allowed to float when the river is moving at a certain speed and volume.
River flow above 1,000cfs means that there are more than 1,000 cubic feet of water moving through any given point in the river every second. In other words, it's too fast and too furious to float.
Rule #2: No containers under 5 fluid ounces are permitted
After too many drunk college kids polluted the rivers with their jello shot containers, they had to crack down.
But all you sophomores and rest assured you can still bring jello shots river tubing, they just can't be in your wasteful little plastic containers.
Or how about you skip all the hassle and opt for one of these 6 beer alternatives from Austin that are perfect for floating the river.
Rule #3: Maximum permitted cooler size is 32 quarts
You can't just take any cooler down the New Braunfels River, it has to be limited to 32 quarts.
But fortunately for you, that's better than it used to be. Recently as 2018, you could only use a 16-quart cooler.
Curious as to how large a 32-quart cooler is? Here's a standard one:
So it's plenty big. And the rule states you can have one of these coolers per person, not per party. There's plenty of room for your favorite Texas beers for floating the river.
Rule #4: Coolers must have a locking mechanism on the lid
Whether it's a latch, velcro, zipper – or even a cord – your cooler must have a locking mechanism.
This rule has been implemented to ensure people don't bring open coolers into the river increasing the likelihood of pollution.
There are already problems with pollution in the area because of people floating the river. Therefore, it's important to follow rules like these to help protect special places like the San Marcos River.
Rule #5: No volume drinking devices
If you decide to float New Braunfels, you have to leave your beer bong, funnels, tubes, hoses, and whatever other devices you may have in your dorm that helps you drink alcohol faster than you should.
Look, drinking alcohol in the Texas sun is sketchy enough. You don't need beer bongs to dehydrate you faster.
In fact, you should consider replacing beer bongs with camel packs full of water. Either way, leave your lava lamps and beer bongs behind.
Rule #6: Noise devices may not be audible beyond 50 feet
Don't worry, you can still get your groove on.
Noise beyond 50 feet is LOUD if you're floating next to a speaker. Besides, you still want to be able to have some conversation with your fellow float mates.
Don't worry about this too much. As long as you're not blasting your jams, you'll be able to cruise along just fine listening to music while floating the river.
Rule #7: Rafts or vessels may not be larger than 18 feet in length
Unless you plan on tubing in a 20-foot tube, you have nothing to worry about here.
This rule is more for kayakers but there are some people who try to take the strangest rafts to float the river.
Little do they know, those rafts were built to float in a pool, not float the San Marcos River. It's no surprise then when they breakdown halfway through.
That's why we recommend floating with a standard inner-tube. And when you float with us, you'll get inner-tubes with cup holders built right in.
And did you know coolers, ice, transportation, and the tube are all included?
Rule #8: When the river flow is above 500cfs, all children under 8 must wear a life jacket
The general rule for children river tubing in Central Texas is that it's recommended under 8 years of age they should wear a life jacket.
However, if the river flow is above 500cfs, it's mandatory. At this water flow rate, the river can get dangerous so it's important to take safety precautions.
It's good that New Braunfels enforces this. After all, at 1,000cfs, you're not even allowed to float.
That gives you an idea of why it's important children under 8 are protected with the flow is above 500cfs.
Rule #9: Inflatable flotational devices must be less than 5 feet in diameter or width at the narrowest point
Where Rule 7 talks about rafts and vessels, this rule is specifically about inflatable flotation devices.
Do you know those inflatable unicorns? That's an inflatable flotation device.
A canoe isn't. So if you plan on using a flotation device to float the Comal River, you must ensure it's less than 5 feet in diameter. This unicorn, for example, wouldn't be allowed since it's longer than 5 feet.
A standard or large inner tube should also meet the requirements.
Rule #10: Limit of two tubes per person
This may sound silly but new rules are made for a reason.
Each person can have up to two tubes while floating the Comal River – which is plenty. There should only be one or two extra tubes per group to hold a cooler or maybe some clothes but you don't need more than that.
This should be an easy one to follow but it's important to keep the atmosphere good.
Rule#11: No alcohol allowed in River Acres, Last Tubers Exit, Cypress Bend Park, Hinman Island, and Prince Solms Park
Basically, if you intend to drink alcohol while river tubing the Comal, you want to be sure you stay in the designated area.
As long as you're not tubing past the Last Tubers Exit or taking the party to a different area, you shouldn't have anything to worry about.
But it's something to keep in mind so you don't get fined while you're just trying to have a little fun in the sun.
Bringing it all together
Floating the longest shortest river in the world can be a wonderful experience. You just want to be sure you're following all of the rules and regulations for river tubing in this area.
Although floating the Comal River has more regulations that other places to float near Austin, most of them are very general and common sense.
Of course, your best bet is to float the river with us so you can sit back and enjoy the float while not having to worry about anything. Yes, we have all the local knowledge you need, but we also handle all the stuff you don't want to.
Plus, you never have to worry about drinking and driving. Transportation, tube rental, guides – even the coolers and ice are all included.
We also float the best river in Central Texas. See why San Marcos is the place for river tubing near Austin – you may be surprised.