The Ultimate Guide to Tubing in Texas
Information on river floating for San Marcos, New Braunfels, Comal, Austin, Guadalupe, Brazos, and Gruene.
How Tubing Works
Floating the river varies from river to river and between the different tubing outfitters. In general, they all have these features in common:
BYOB
You'll put your drinks/snacks in a cooler. Your cooler will get its own tube and you'll tie it to at least one person's tube in your group.
You'll hop in a tube and float to your destination.
Floating takes anywhere from 2-4 hours depending on which river and which outfitter you go with.
Tubing in Texas isn't whitewater rafting/canoeing/kayaking. It's much more tame and leisurely. You don't need a helmet or a paddle. However, you will encounter rapids, rocks, fast-flowing water, and deep areas where you aren't able to touch bottom.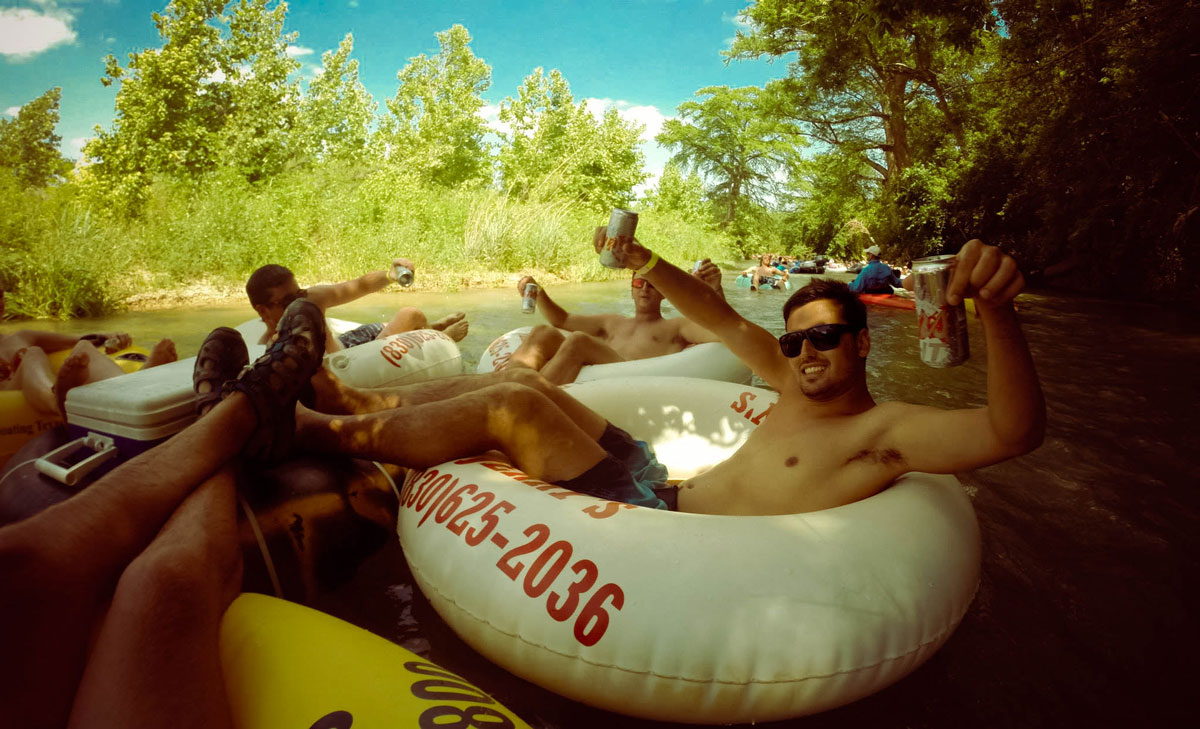 Quick tips for all tubing
Get a tube with a drink holder.
Don't use a black tube for yourself. They get too hot in the sun. They're fine for your coolers though.
Bring a snack. You'll end up wanting it about an hour before the trip ends.
Leave your shoes/flip flops in your car. You'll probably lose them on the river. You might want to consider water shoes or sports sandals though - the river beds are rocky.
If you don't want something to get wet, don't take it. Everything will get wet.
If you don't want to lose something, don't take it.
Bring extra sunscreen with you on the trip so you can reapply it.
This Dollar Tree sunscreen is just as good as others and is only $1 for 4oz (you'll usually pay $5+ for an 8oz tube). Perfect size to take on the river.
Bring a waterproof camera if you want photos. Most of the "waterproof" phone cases aren't very good.
Don't bring your phone. You'll probably lose it. If you do bring your phone, put it one of those aforementioned waterproof cases just for good measure.
Put everything you don't want to get wet in a dry sack.
Don't be a dick. Bring a trash bag for your empties and other trash.
Have a plan for where to eat when you're done tubing.
Have a safe ride home.
Bring a hat and sunglasses.
No glass containers.
No styrafoam.
If you're floating the Guadalupe, make sure you know all the rules.
Stay hydrated! Bring water.