Drinking Rules for Tubing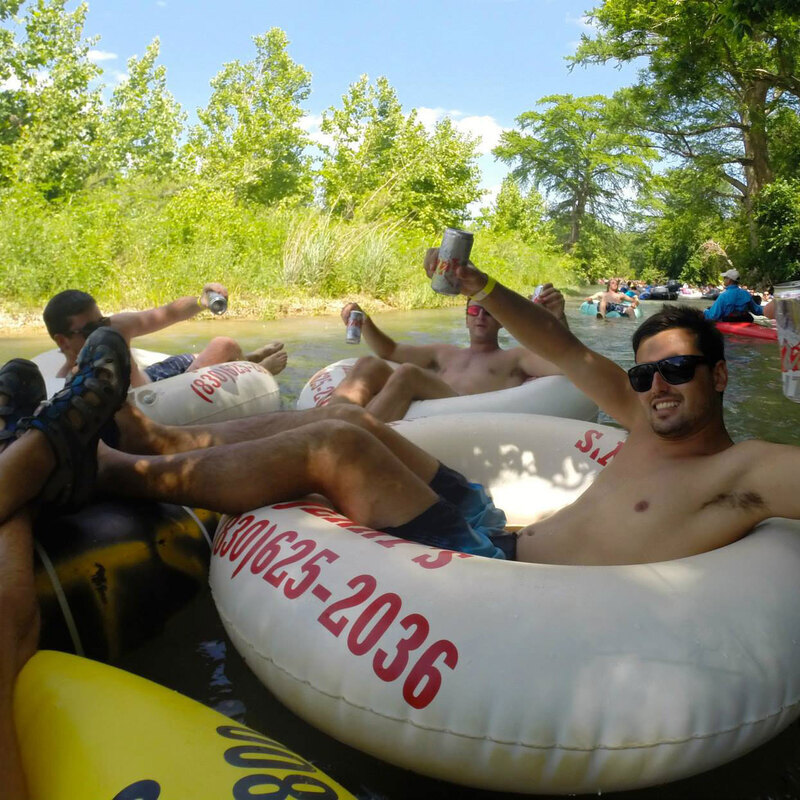 Life's too short. If you're not taking the time to spend a few weekends floating the River, then what's the whole point of it all?
Imagine yourself tubing in a lazy river, watching the clouds float by, and sipping your favorite local Texas beer.
Here's the catch: as responsible individuals, there are some rules to follow. They're basic, and none of them should spoil your trip but it's still important you get to know them.
Can you have beer and alcohol while river tubing?
There are no rivers that put a ban on alcohol usage.
However, this isn't your backyard or your friend's swimming pool.
Rivers are natural bodies of water complete with their own unique ecosystem. Polluting endangers wildlife and it can become a serious threat in places that have a lot of people floating the river.
Therefore, it's important you follow some rules when you drink and river tube.
Rules to Follow for Drinking and River Tubing
To ensure both humans and wildlife alike are safe, here are some rules for taking beer and alcohol to float the river.
Rule #1: Drink responsibly while floating the river
It's good to have fun while drinking but every year people die on the river from becoming too intoxicated.
Plus, since you're going to be out in the hot sun for an extended period of time, you risk dehydration. And of course, drinking is only going further contribute to that.
Lastly, you obviously don't want to drink and drive. Just don't.
That's a rule you should always be following – river tubing or not. That's why transportation is always included with you float the river with us.
Rule #2: Glass bottles are not permitted river tubing
Glass bottles are a no-go. You can guess why.
But in a lot of places, you need to check other container rules as well. Rivers to float near Austin, for example, have banned disposable cups.
Instead, stick to local canned alcoholic beverages. Check out our favorite beers for floating the river.
Beer not your thing? Check out these 6 beer alternatives from Austin, TX.
Rule #3: Styrofoam coolers are not permitted river tubing
Styrofoam coolers are literally not built to be taken on a 3-hour lazy river adventure.
Not only do you risk the bottom completely falling out but styrofoam coolers also chip away and release small pieces of styrofoam into the water.
Now, you don't need to purchase a floating cooler or a tube specifically designed for a cooler – all you really need is a basic cooler and an extra tube. It can be a lot to carry around but it's worth it.
The better option is tubing near Austin with an all-inclusive company like us. Then your cooler, ice, tube, transportation – and even guides – are all included.
Check this article if you want Tips for Tubing with a Cooler.
Bonus rule: bring a few koozies – your drinks will stay cooler longer.
Rule #4: Leave no trace behind when floating the river
Most of us really do care about the environment but sometimes after a few adult beverages, we can get a little careless.
Plus, without a designated place for trash, it can end up spilling out into the water and floating out of reach.
We have a responsibility to protect the environment – and as we're out enjoying it – we need to take precautions that we're not destroying it.
Pack a trash bag right into your cooler. As you finish food or beverages, toss it right into the bag.
By the time you're done floating the river, you'll have everything already cleaned up and can ensure you're doing your part to keep the rivers clean.
Rule #5: Safety first when tubing and drinking
River tubing can be adventurous and relaxing but unsafe drinking behavior can also make it dangerous. Not to mention the danger of drinking and driving.
Since spending several hours in the sun can dehydrate you and make you feel more impaired than you realize you are, you need to ensure you have a designated driver.
You also want to be sure you're drinking enough water and keeping an eye on your companions.
Of course, you can choose to float with us and have not only your driving covered, but two local guides to keep an eye out as well.
It's legal to drink alcohol river tubing but…
So yes, it's legal to consume beer and alcohol while you float the river but there are rules and regulations that need to be abided by.
And remember, each state has different laws and each river may enforce different rules and regulations.
If you intend to float near Austin, you'll be able to drink beer and alcohol throughout the state's rivers. And to ensure your safety and maximum fun level, come river tubing with us and we'll handle all the stuff you don't want to worry about.