Most Common Questions for River Tubing in Texas
If you live in Austin or are visiting and are looking to go river tubing, you're in luck. When it comes to lazy river float options, Austin has pretty great choices.
We spend more than 100 days per year on these rivers and have seen a thing or two. We've always been asked a thing or two so we thought we'd put together a list of some of the most common questions.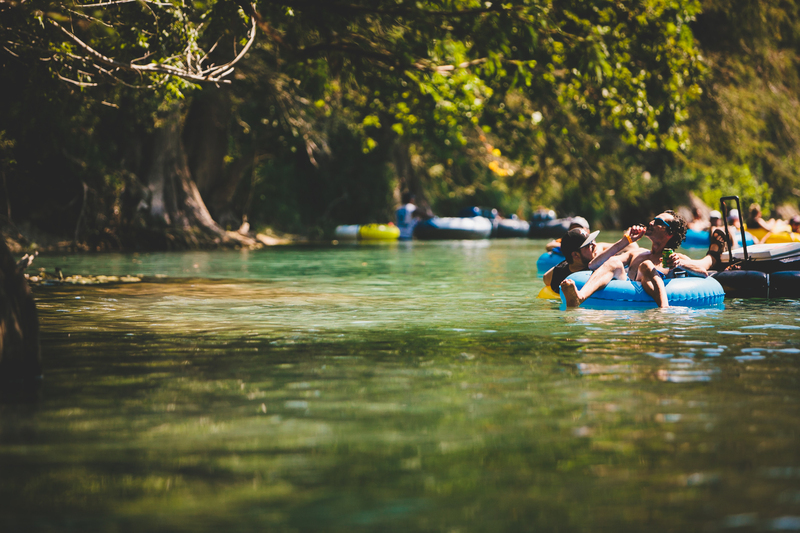 Frequently Asked Questions for River Tubing
Ready to get your float on but have a few questions you need answering?
We got your back.
Is alcohol allowed?
Yes, alcohol is permitted on Texas Rivers and may be consumed while river tubing.
However, certain rivers have different restrictions so it's important you read the rules and regulations for river tubing in Texas.
How long does it take to float the river?
This depends on which river you decide to float.
For example, floating the Comal River can range from 2 to 4 hours. And you can choose to float the San Marcos River for an hour or longer depending on where you decide to begin your float.
It's really up to you. Just look up the river you want to tube and the different entrance points. You can customize how long you want your float to be.
What's the best tube for floating the river?
First of all, no unicorns or silly rafts – you need a legit tube. We've seen a lot of sad swan rafts being left behind because people were too lazy to dispose of them after they didn't hold up in the river.
Besides that, you want to make sure your tube has plenty of air, no patches, and isn't black (it may get too hot). Oh, and bonus if you can get one with a cupholder.
How long does it take to get there from Austin?
Depending on which river you float determines how long it will take to get there from Austin.
The San Marcos River only takes about 30-45 minutes whereas the Frio takes a little more than 2 hours to get to.
If you want to float the Guadalupe it will take about an hour from Austin and the Comal is about a 45 minute drive.
Should I bring food?
Yes, you're definitely going to want to bring something to eat. It doesn't have to be much, but at least something to snack on.
We see a lot of nuts, trail mix, energy bars, and sandwiches.
Can children float the river?
Yes, children are allowed to go river tubing.
However, life jackets are recommended for children under the age of eight.
Are dogs allowed river tubing?
Believe it or not, yes they are. It's a city ordinance to keep them on a leash, so keep that in mind.
Also, if you want to float the Comal, you can even rent a dog-friendly tube! You'll just have to pay for the puncture.
Take your dog river tubing at your own risk, though. It's not necessarily something we'd recommend. Sounds stressful.
What kind of apparel should I wear?
One of the best ways to have a great float is to bring less. Anything you bring you risk losing, so keep that in mind.
Besides a swimsuit, you may want a hat and sunglasses. Other than that, have a shirt to put on if you're getting too much sun.
Should I bring my sandals?
It's up to you but we see a lot of people choosing to leave them behind so they don't risk losing them.
Of course, whether you bring water shoes, sandals, or go barefoot partly depends on what you want to do. If you want to hang out after and walk around, water shoes might be a good thing. But many people are fine barefoot.
If you do bring your sandals, make sure you tie them to your tube.
Can I bring a cooler to float the river?
Yes. And you should. It can have its very own tube.
Or, come float with us and you don't have to worry about bringing a cooler, ice, or renting a tube for your cooler. We take care of it all.
Where do we meet for river tubing near Austin?
We recommend getting included transportation if you intend to float the river.
You can do it on your own but it comes with its own set of challenges. Like drinking and driving.
Our Austin shuttle dropoff and pickup point for floating the river is 2000 S I-35 Frontage Rd, Austin, TX 78704. You can find free street parking around the property.
Check out this article for more information on Austin river tubing shuttles.
How cold is the water?
Again, this depends on which river you decide to float.
The San Marcos River is a consistent 72 degrees year-round because it's fed from a natural spring.
The Guadalupe ranges from low 50s to the mid-80s, and the Frio ranges from the 60s to the 80s.
Should I bring my phone on the river?
How good is your insurance?
We've seen a lot of people lose phones in these rivers. Even waterproof phones can sink.
We're not telling you whether you should or shouldn't, you're an adult. If you do, just make sure you're smart about it and take extra precautions. Trust us on this.
What river tubing company should I go with?
Well, if you're asking, we actually have a great option for you. Us!
We provide all-inclusive river tubing trips so you don't have to worry about anything. Transportation, tube rental, cooler, ice, a guide – it's all included. Plus, you'll meet some amazing people along the way.