Tips For Floating the San Marcos River
With all the river tubing near Austin, San Marcos is our favorite to float.
The water is a spring, it's only 30-45 minutes from Austin, the scenery is beautiful, and the float is a good length. Sounds pretty sweet, right? That's why we chose it for our all-inclusive river tubing trips near Austin.
We outline all our reasons why tubing San Marcos is our favorite river to float in the link above but this article will give you expert tips on exactly what you need to float in style.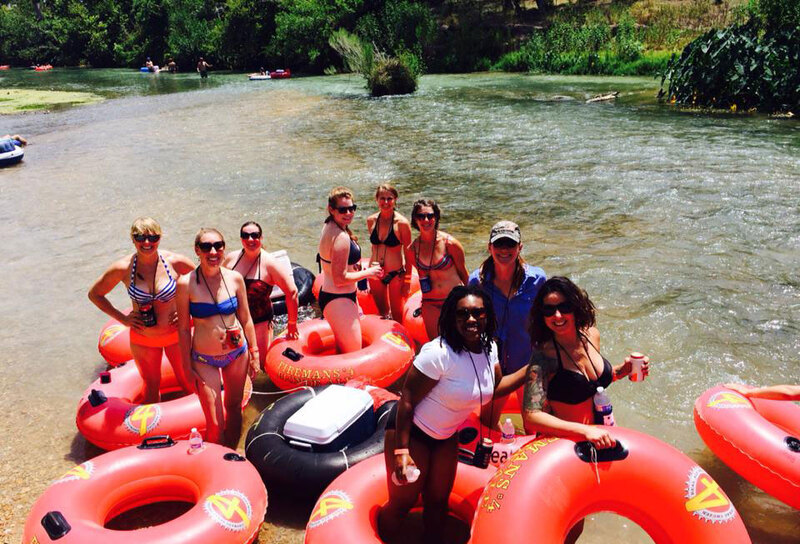 Shoot the Falls!
Towards the end of your river tubing experience, you'll have the chance to shoot the Rio Vista Falls!
It's a lot of fun and a place you could spend some time hanging out. Keep in mind, because it's such a cool area to hang out, it can get pretty busy.
But we definitely recommend spending some time watching people shoot the falls. And yes, doing it yourself.
River Tube Weekdays and Early Mornings To Avoid Crowds
Not everyone wants to party on a lazy river float. Sometimes, a quiet morning in nature on the water is all the medicine we need.
If you're looking to avoid the crowds and the boomboxes, shoot for the weekdays or early mornings.
We also wrote the guide on how to choose the right river tubing experience near Austin, so if you want to dive deeper, we got you.
Float On Weekends or Afternoons To Party
This seems pretty obvious so we're also going to hook you up with some other great info here as well.
July is the most popular month and Labor Day is the most popular day of the year. Then there's Float Fest – which is a whole experience in and of itself.
Of course, one of the best ways to float with a cool group of people is to come with a group like us. Our groups always have the best time and you meet some awesome, like-minded people!
Don't Cliff Jump the San Marcos
There are a lot of shallow areas of this river and it's a terrible idea to go cliff jumping anywhere along the float.
Plus, it's against the rules and regulations of the San Marcos River and you can actually get fined for it.
Trust us here, it's not the right setup for cliff jumping. Enjoy the float and save your adrenaline for the Rio Vista Falls.
Expect Consistent Water Temperature Year-Round
Since the San Marcos River comes from a natural spring, the water stays at a cool and refreshing 72 degrees year-round.
That means it never gets too cold in the winter and is always refreshing in the summer.
Bring Goggles
Since you'll be floating in clear spring water, you're going to want to bring some goggles.
It's not a 'must' by any means but if you want a chance to see some river wildlife or have some kids you're bringing, we highly recommend it.
Plus, you never know what you might find. Every day people lose sunglasses, wallets, keys – and so much more!
You'll Need Drinks and A Cooler
It's legal to drink on the San Marcos River so if you want to bring some alcoholic beverages, check out the best alcohol drinks for river tubing.
Of course, you're going to need a cooler. And ice. If you float with us, you won't need either because they're included. Either way, drinks and a cooler a must.
Your cooler will need its own tube and make sure you don't bring a styrofoam cooler. It's against river tubing rules in Texas to float with one.
Be Safe and Have Fun
Floating the San Marcos River is magical. Let's keep it that way. Organize your trash so you don't lose any of it. There are even canoes in the water you can toss some trash in as you float down the river so there's no excuses!
And don't drink and drive. For your sake and others. Let us drive. We'll pick you up and drop you off in Austin.
Have fun river tubing the San Marcos!