Where to eat after river tubing near Austin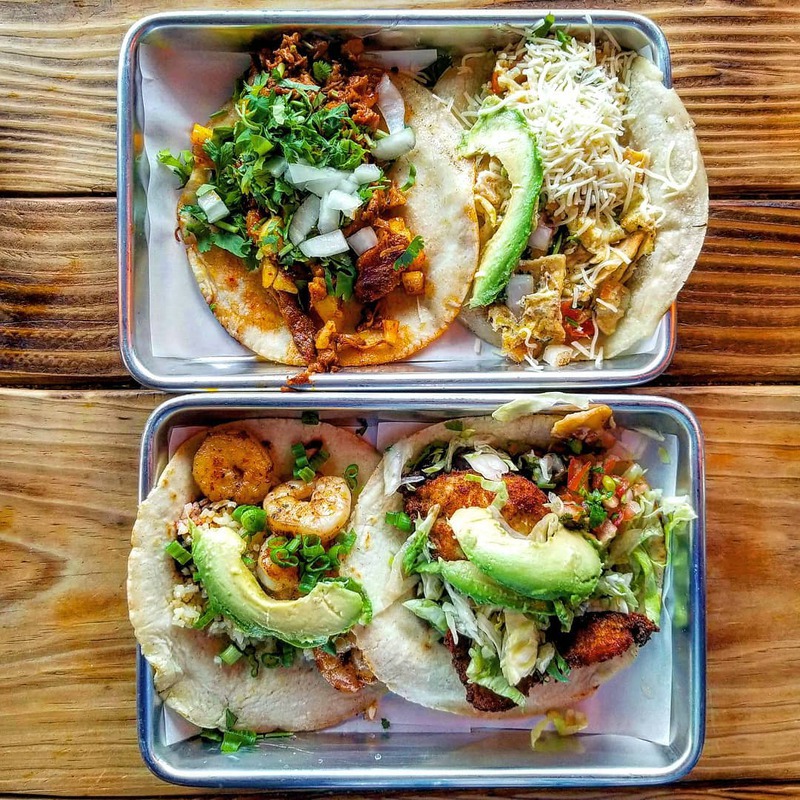 Who would have guessed that sitting in a tube floating down the river could make you so hungry?
We may not understand the science behind it but we river tube near Austin about 100 days per year and one thing is for sure: you're hungry afterward.
Fortunately for you, Austin is one of the best places in the country to enjoy delicious food. From famous food trucks like Vera Cruz to local breweries like St. Elmo Brewing to amazing local restaurants like Loro, there's something for everyone.
Sure, there are plenty of articles focusing on the best places to eat in Austin – or how to get the best local barbecue without waiting in line – but there aren't any articles on the best places to eat after river tubing near Austin.
Since you'll just be finishing river tubing the San Marcos River and may or may not have had a few drinks, not every restaurant is the right fit.
So here are our favorite places to eat after river tubing near Austin.
Oh, and keep in mind most people get roundtrip transportation from Austin to float the San Marcos River which is why this article is focused on local Austin food.
Eat at Austin's Favorite Food Trucks
Not many cities are known for enjoying delicious craft food out of trucks.
In fact, Austin likely takes the cake. We prefer tacos but we'll take the cake and eat it too.
With some of the most delicious food trucks in the country, you won't be let down by what Austin has to offer.
Here are our favorite local food trucks that are great to try after floating the river.
Veracruz All Natural
Sisters Reyna and Maritza Vazquez were born and raised in Veracruz, Mexico and moved to Austin after high school with a dream to open up a restaurant.
After much persistence and determination, they became successful and opened up a total of four Veracruz All Natural locations.
Then their tacos were named of the five best tacos in America by the Food Network. And yes, they're that good.
Arlo's
Fresh, plant-based comfort food that will leave you questioning how there's no meat.
Their tacos are great and all but really you need to go with the Bac'N Cheezeburger. Then get the tots or mac & cheese.
We never said it was healthy simply because it's plant-based – but Arlo's is worth it. Plus, after floating the river and having a few drinks, it hits the spot.
Kebabalicious
Founded by some college kids out of San Marcos (the location of the best river to float in Austin), these Texan boys drew upon their experience living in Switzerland and according to them, "…smuggled spices & recipes" back to Austin where they've been running a successful food truck ever since.
There's something for everyone here and the staff if always great.
Plus, a sandwich is always delicious after being in water (why is that?) and these Swiss inspired Kebabs are the perfect complement to a day of river tubing. And they're definitely kebabalicious.
Local Breweries in Austin
Want to keep the vibe going with some craft beer and comfort food?
The local breweries in Austin have you covered. And don't worry, they have more than just great beer.
Here are our favorite breweries to try after river tubing.
Austin Beer Garden Brewing Co. (ABGB)
If you're looking to keep the river tubing vibes going, we're not sure you could find a better outdoor setting than ABGB. But there are plenty of other reasons to try this brewery than the outdoor nature vibes.
In only 5 years of business, ABGB has managed to win 6 Gold Medals for their beer, as well as a bronze and 3 BrewPub of the year awards.
The food is pretty great too which you can't always say about a brewery. So if you're looking to get outside, enjoy a few delicious beers and have some solid grub, Austin Beer Garden Brewing Co. is where you want to go.
Pinthouse Pizza
Strap in for some of the best pizza and IPAs you've ever had in your life.
Making both the beers & pizzas in-house, Pinthouse Pizza knows how to make a good pie and brew a good beer.
Not only have they won awards for both, but they also offer a cool atmosphere with long picnic tables encouraging community.
It's also super casual and great for groups. Come enjoy a delicious pie, sip beer straight from the horse's mouth, and get an authentic slice of Austin.
Zilker Brewing
Boasting some of Austin's favorite beers like the Marco IPA and Honey Blonde, Zilker Brewing is nestled amongst one of the coolest neighborhoods in the city.
And yes, there's food. Spicy Boys Chicken is outside serving up mouthwatering chicken dishes with an amazing variety.
Only a few minutes from downtown and a perfect variety of beers, Zilker Brewing is a wonderful option after floating the river near Austin.
Austin's Best Restaurants
If food trucks or local breweries aren't your thing and you're looking for more of a restaurant setting, we got you.
And don't worry, these aren't the type of restaurants where you're gonna have to put on your Dallas best and dress to impress.
Rather, these are casual, fan favorites that will welcome you with open arms after floating the river.
Loro
An Asian smokehouse with an in-house bar boasting one of the best happy hours in Austin, this unique and popular spot is an Austin favorite you don't want to miss.
Of course, you'll just be finishing floating the river so you may want to continue being outdoors or hide from the sun inside. Either way, Loro has you covered. With a fantastic patio under a huge oak tree and plenty of room inside, you'll be good to go.
The best part of Loro? Order at the bar and seat yourself. It's super casual despite the food being really impressive. Did we mention it's own by a winner of James Beard Award, Chef Tyson Cole of Uchi, and Aaron Franklin of Franklin Barbecue?
If you know anything about Austin, you know that's kind of a big deal.
Odd Duck
Bryce and Dylan Gilmore purchased a Fleetwood Mallard trailer, opened a food truck, and instantly became beloved by Austin.
Shortly after, the Odd Duck was nationally recognized which simultaneously helped put Austin's local food scene on the map. They now have a beautiful restaurant with plenty of outdoor seating and one of the best happy hours in Austin.
But Odd Duck is special because of its food. With an open kitchen and amazing menu choices, nobody disputes the originality, atmosphere, menu, and atmosphere of Odd Duck.
Oh, and the entire menu and experience is based around sharing plates. What better way to end a day of floating the river?
Native Hostel
More about the vibe than food – and much more than a hostel – Native Hostel is a great option if you're looking to hang out and do something after dinner.
Catch some hippie vibes, snap a photo for the #gram in front of eye-catching mural walls, and jam out to live music and events every weekend.
Their menu has everything from snacks to dinner and you can be dressed up or in swimming trunks and sandals.