Comal River Can Ban and Single-use Container Ban: What You Need to Know
Did you know there are different rivers to float near Austin?
We recommend the San Marcos, Guadalupe, and Comal Rivers. They're kind of known as the 'Big 3' around here for river tubing and you really can't go wrong with any of them.
We do think San Marcos is the best river to float near Austin but the Comal is unique because it's known as the world's 'shortest longest river.' This kind of thing can't be made up. Here's the Comal River Wikipedia article to prove it.
All of these rivers have different rules for river tubing. While most of them are the same, self-explanatory, and not too strict, the Comal River has a few extra rules you're gonna want to pay attention to.
To find out all the Rules and Regulations for River Tubing in Central Texas, check out this guide.
Comal Can Ban & Single-use Container Ban
For several years, more than 100,000 pounds of litter was pulled from the Comal River. Local residents decided to do something about it and voted this ban into place.
Now, all cans and single-use containers are not permitted on the Comal River.
To be clear, that doesn't mean you can't bring alcohol. You just have to ensure it's in the proper container.
Here's a photo that does a great job describing what you can and can't bring to the Comal River: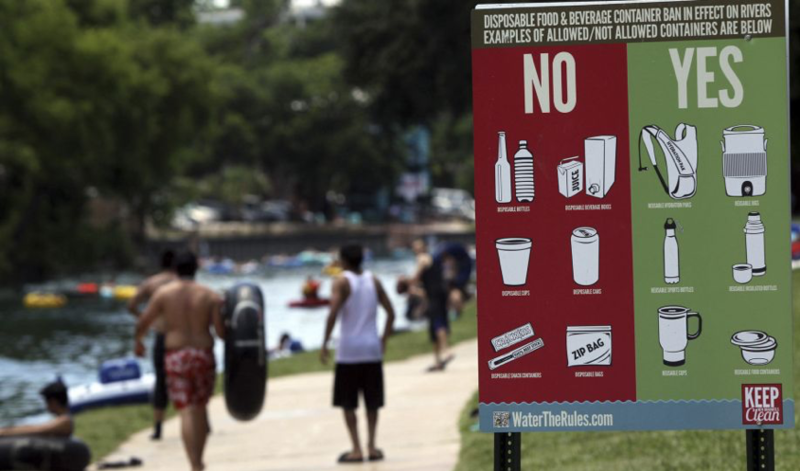 As you can see, this law isn't just about getting rid of cans but all single-use containers. No Ziploc bags, no coffee cups, and even no plastic one-time-use water bottles!
Essentially, anything that can only be used once and is considered 'disposable' is not allowed on the Comal River.
Frequently Asked Questions About the Comal Can Ban & Single-Use Container Ban
We understand all of this can be a bit confusing. Here's a list of frequently asked questions we consistently get about the recent ban.
How does the Can Ban affect floating other rivers near Austin besides the Comal?
It doesn't. The Can Ban is only in effect for the Comal River.
If you float the San Marcos or Guadalupe Rivers, you may bring cans.
Does the single-use container ban for river tubing apply to other rivers?
Nope. Just like the Can Ban, the Single-Use Container Ban only applies to the Comal River.
Therefore, you can bring disposable water bottles, cans, bags, etc. to other rivers near Austin – but we don't recommend it. Try and utilize reusable items as much as possible.
Is the Comal Ban enforced?
Yes! There are police along the river who will eagerly issue a ticket.
It's not worth trying to risk it and not get caught – trust us.
What happens if I get caught with a can or single-use container on the Comal River?
If you get caught with a can or single-use container you may receive anything from a 'Warning' to a fine up to $500.
Again, it's not worth it. Either ditch the cans or river tube at a different spot.
Is alcohol allowed on the Comal River?
Absolutely. You just need to ensure it's stored in the proper container.
And that you drink it responsibly. :)
How can I drink alcohol on the Comal River with the Ban in place?
Great question. There are many options, actually.
The most popular likely being plastic beer growlers. Since they're not glass and aren't 'single-use,' many river tubing Austinites are filling up with 64 ounces of craft beer and taking that floating.
Of course, you can't have plastic single-use cups so make sure you're pouring it into something reusable. One of the most popular cups we see being used is Yeti's Ramblers.
Beer not your thing? You can do something similar by pouring a bottle of wine into a large Hydroflask or another reusable container.
Can Ban and Single-Use Container Ban Summary
If you intend to river tube the Comal – you can drink alcohol – just don't bring any cans or single-use items.
However, if you want to float any other river near Austin, you don't have to worry about this ban at all.
Whether or not Austinites think this ban is a good thing or not, the environment surely does. In 2011, more than 100,000 pounds of litter was collected from the Comal. In May after this ban was put into place, that number dropped to only 1,800 pounds.
We'd like to think that's a win for the environment. And if you think about it, it's a win-win for all of us. Cheers to drinking from reusable containers and enjoying your lazy river float!
By the way, looking for an all-inclusive river tubing trip that has everything you need – including transportation from Austin? Come see why we're the local favorite when it comes to river tubing companies near Austin.