Rivers To Float Near Austin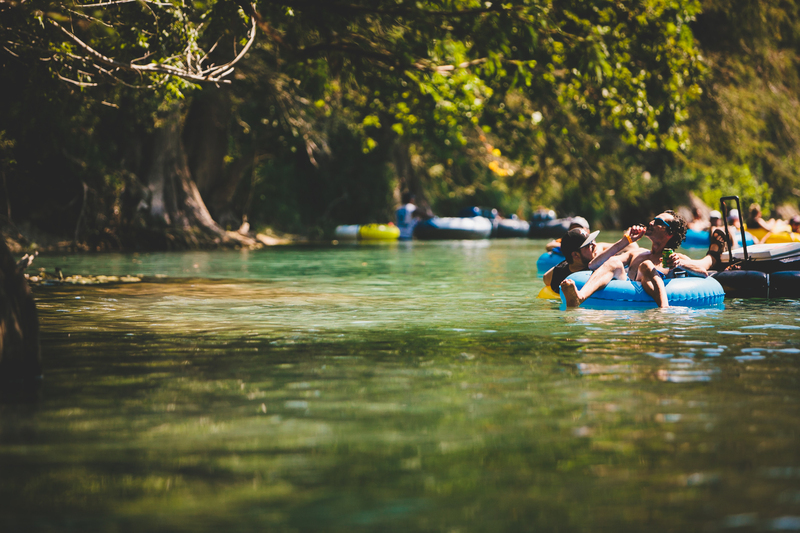 There are few things better than river tubing on a hot summer day with friends.
Fortunately for Austinites, there are plenty of opportunities to take advantage. Within an hour's drive are 3 great choices for river tubing near Austin.
So grab your sunscreen, BYOB, and take a lazy river float down the San Marcos, Comal River, or Guadalupe River.
San Marcos Tubing
Just 30-40 minutes from Austin, the San Marcos River is nestled within a hip college town (Texas State) with a great vibe.
And of all the rivers you can float near Austin, the San Marcos River is the best option.
The San Marcos River is unique because it is generated from a natural spring so the water is cold and clear. How many opportunities do you get to float in a natural spring?!
It's also a great choice because it takes about 3 hours to float – which is just about the right amount of time to be in the Texas sun. Opt for all-inclusive river tubing with us and get your transportation, tubes, coolers, ice, lockbox, & two guides all included.
Since San Marcos River is in the college town of Texas State University, you can anticipate some drinking down the river – which is entirely legal as long as you're being responsible. And remember, it's BYOB!
Keep in mind there are some great restaurants in San Marcos you can visit after, as well as tour local Austin breweries.
Comal River Tubing
Float the 'longest shortest river in the world!'
The Comal River is located in New Braunfels, about 45 minutes to an hour drive from Austin. It's such a unique place because – at only 2.5 miles long – it may be the shortest river in the world.
Of course, locals like to call it the 'longest shortest river in the world' but we're not prepared to officially make that claim.
Still, it really is a special place. While tubing the San Marcos River is a great option for adults, floating the Comal River is a great option for families.
Comal may be the shortest river but it's also broad and slow. Plus, you can enjoy a riverside city tour as you cruise through the town.
Check out the rules and regulations for Comal river tubing.
Guadalupe River Float
There's no other way to say it so we're just going to say it: tubing the Guadalupe River is for those who like to party.
Depending on where you start, floating the Guadalupe can take 1.5 hours to 5 hours. The most popular place tubing entrance is Horseshoe, which lasts around 2 hours. You can enter this location along FM 366.
You should also keep in mind there are a few spots with rapid water which doesn't make it as kid-friendly as the Comal River.
Here's all the rules you need to know about floating the Guadalupe River.
Can you float Barton Creek?
Tubing Barton Creek is the most local option for Austinites but it's not nearly as entertaining as the others.
While Barton Creek is gorgeous and has a lot to offer, it's not the best river tubing in Texas. The Barton Creek Greenbelt itself contains more than 12 miles of trails and the springs run right through it.
You would need to bring your own tube and there aren't any companies to organize river tubing for you. It's a great option for hiking and lounging by the water, though.
Whatever Floats Your Boat – or tube
When it comes to river tubing near Austin, there are some great options.
Although floating the longest shortest river in the world & Guadalupe River are great options to float, tubing the San Marcos River has always been a fan favorite.
Plus, float with us and everything will be handled for you so you can sit back and enjoy the float.