Choose the Right River Tubing Experience Near Austin
The fact we have the privilege of choosing our tubing experience, to begin with, is amazing. Let's just get that out of the way.
River tubing near Austin is not only easy and accessible, but it's also beautiful and diverse. Whether it's floating the San Marcos, river tubing the Guadalupe, cruising down the Frio, or floating the Comal, there are different floating experiences to choose from.
Beyond that, you can customize even further depending on what time of year and what time of day you float.
Here's how to choose the right river tubing experience near Austin.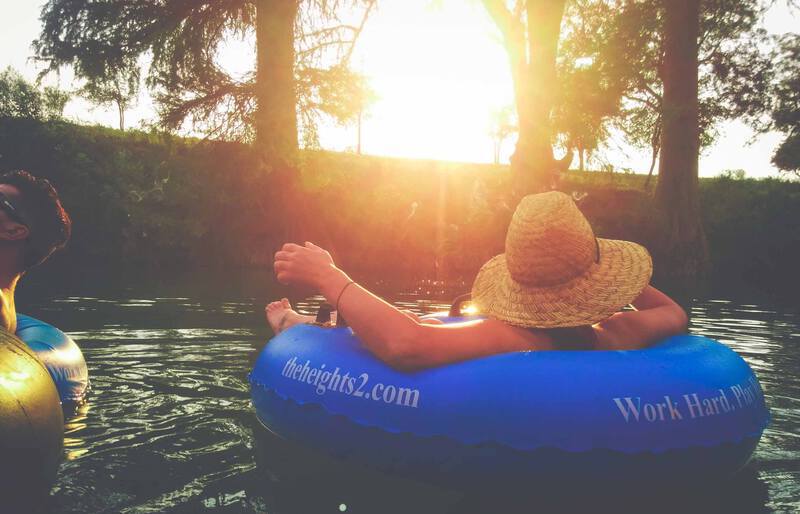 River Tubing Party Experience
If you're looking to get your drink on with a bunch of other people doing the same, you're going to want to float the river during these times.
The two best rivers to float near Austin for the best river tubing party experience is the San Marcos River and Guadalupe. Other rivers like the Comal and Frio will be busy as well, but you'll get the most bang for your party buck at the other two.
Labor Day Weekend
As you may have guessed, this is an epic weekend to throw down while you float down the river.
Expect a crowd and expect things to move slow. But that's what you want, anyway! You're there for the party, not to race.
Just don't plan on driving. Let us handle that.
Float Fest
It's a festival. And there's floating. And great live music.
So you can expect a party. It's a good ol' time and you want to ensure you plan way in advance for this one.
All Day Saturdays
If you float the San Marcos or Guadalupe River in July on a Saturday, you can expect to see a crowd.
Actually, that goes for most Saturdays during the floating season but it will die down around September. The real party starts around 2:00 pm.
Friday Late Afternoon
In the prime season, Friday late afternoons on the Guadalupe & San Marcos – and into the evenings – are a blast.
They may not get as wild as Saturdays but there's something special about getting off work and getting on the river.
Relaxing Lazy River Float
Looking for a more chill experience? Like a real lazy river float?
Here are the best times & places to go river tubing in Austin for a relaxing float.
Easy Like a Sunday Morning
There's something beautiful about Sunday mornings in Austin: nobody is awake.
If you're looking for a relaxing lazy river float near Austin, it doesn't get much better than a Sunday morning. As long as it's not a holiday weekend, of course.
Feel free to try any of the rivers to float near Austin during this time.
Granted, weekday mornings are great too but you're likely working. Plus, most all-inclusive river tubing companies near Austin are only open during the weekends.
Monday – Thursday Before Noon
During the summer, you'd be surprised by the number of people floating on a Tuesday afternoon. Between the kids being out of school and local tours, it can get busy.
If you want the authentic lazy river float, we suggest going before noon. It's lovely.
Float With The Family
Family: Go to the Comal (use Texas Tubes but beware of the single-use container ban) or go to The San Marcos (actually in San Marcos) and use The Lions Club. If you're a family, I don't suggest going on the weekends in the summer, unless you're okay with a lot of other people.
River Tube to Enjoy Nature
We're lucky to be able to choose so many different places to go river tubing near Austin.
If you're looking to float the river and enjoy nature, the 3 most popular places to float all have something to offer.
Guadalupe River
Perhaps the most visually striking is the Guadalupe River.
You'll float down the river with beautiful canyons lining the sides. Bald Cypress Trees – more than 1,000 years old – also can be seen right from the comfort of your floating donut.
It's beautiful. But if you're truly trying to enjoy the beautiful scenery, be sure you go at the right time. This place is a party zone for a lot of the summer.
To get the most out of appreciating the nature, go in late winter to early summer, or late summer to early fall. Early Sundays and weekdays are a good bet too.
San Marcos River
Believe it or not, San Marcos, Texas is believed to be the oldest continually inhabited place in the Americas.
That will tell you something: there's nature. And it's worth seeing.
Plus, the San Marcos River a freshwater, natural spring that has never been known to stop running. The water is so clear you can see the bottom. Bring your goggles.
Oh, did we mention it stays at a steady 72 degrees Fahrenheit all year round? While cold enough to cool you off, it's also not too cold to enjoy for a while.
Floating for Families
Interested in taking the whole family and want to avoid the party scene?
Depending on when you go it may not be possible to avoid all of the crowds but if you stick to the tips above for the Relaxing Lazy River Float, you can miss most of them.
One thing is for sure though, you're gonna want to head to the following destination – it's great for kids.
Lions Club
If you are taking a family river tubing near Austin, Lions Club should be your destination.
They have everything you need. You can rent tubes there, coolers, dry bags, and more. Plus, there's a great place to hang out at before you push out.
Lounge in the grassy area or relax in the shallow end before starting your lazy river float. This part of the river is great for kids because a lot of it is shallow, the water is clear, and the pace is slow.
Plus, it's not that long of a trip. Depending on the time of year, you can finish the float anywhere between 45 minutes to an hour and a half.
The final perk? Pay once and float as many times as you want.